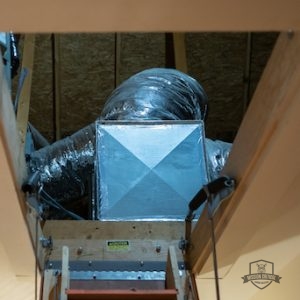 Air ducts provide an indispensable function for your home. All of the air from your cooling and heating system passes through these ducts into the various rooms of your house. In fact, air throughout your home is recirculated through the ducts several times a day. Because of this, a clean and properly installed air duct system has an enormous impact on your home's comfort, along with your HVAC's efficiency. At Mission Critical Comfort Solutions, we serve as your local source for professional air duct installation.
Some installers may cut corners with your air ducts, install them too quickly, and not pay attention to the overall integrity of the system. We take the time to do things right, however, and never perform shoddy or rushed work. For all your needs, including repair, cleaning, and air duct installation in Bonaire and Warner Robins, GA, trust the leaders at Mission Critical Comfort Solutions. We also offer commercial work, and remain available when you need us at 478-960-5825.
Air Duct Installation and Repair
Properly installed air ducts have an enormous effect on your HVAC's effectiveness and energy efficiency. When you entrust this work to Mission Critical Comfort Solutions, you can rest assured of an impeccable job. The benefits of our superior service include:
More Stable Temperatures: Do you ever feel as if some rooms never get properly heated or cooled? You could have leaks in your air ducts. An air duct leak can come as a result of improper installation or could have developed out of damage. Either way, leaks inhibit the efforts of your HVAC and make it work harder.
Lower Energy Bills: As your HVAC works harder to deliver air through faulty ducts, it will drive up your energy bills. Over time, the added work and stress can also shorten the life of this valuable system. Inadequate insulation in your ducts can also lead to lost air, which will force your HVAC to compensate through added effort.
Call for Questions or Service
If you need a new installation of an air duct system for your house, do not trust the job to just anyone. Rely on your local specialists at Mission Critical Comfort Solutions for all needs in regards to air duct installation in Bonaire and Warner Robins, GA. We also offer repair, replacement, and commercial services, so do not hesitate to call us anytime at 478-960-5825.
Chris Townsend
Quoted a new Daikin Fit heat pump system to replace clients 2003 Trane heat pump. Client accepted quote and mission critical will install on Tuesday June 15th.
Chris Townsend
Mission critical installed two supply vents for children's rooms upstairs we also added a return to even the air flow. Mission critical also quoted two system preventive maintenance.
Chris Townsend
Installed new Honeywell 2 zone zone board and added a vent to child's bedroom for more even cooling.
Chris Townsend
Checked over heat pump system and duct work for clients new home he just purchased.
Chris Townsend
Installed reme halo air purifier in main level HVAC unit.
Chris Townsend
Installed Reme Halo air purifier in clients new home to help with new home off gasses and to ensure cleanliness of new HVAC system.
Chris Townsend
Quoted installing a whole home humidifier on his American standard HVAC system.
DJ Barker