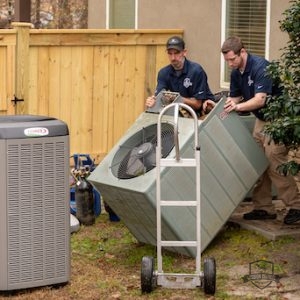 Your HVAC represents one of the most important elements of your home. Though it does not see heavy use throughout the entire year, the seasons of summer and winter can put an HVAC through the wringer. In anticipation of colder or warmer temperatures, the time will come for every owner of a home or business to consider the need for replacement. Thankfully, a quality HVAC installation in Bonaire and Warner Robins, GA such as those offered through Mission Critical Comfort Solutions can last for a decade or more. Call us at 478-960-5825 to get started.
We specialize in the home comfort of our clients. Because of this, we sell and install only superior HVAC systems. Should you ever require our services in HVAC installation around Bonaire, GA, you can rely on prompt arrival and thorough work. Customer service is also very important to us, as we hope to transform every service project into the start of a longterm partnership. Anyone is welcome to call 478-960-5825 at any time to find out more in regards to our work.
Signs You Need New HVAC Installation
We take great pride in our role as contractors for both new and replacement installations for HVACs. We understand you have a lot of choices, and we appreciate your confidence. For our part, we strive to make the process as simple as possible and can guide customers through the gauntlet of choices necessary across a complete HVAC system. If you have an older AC, a few warning signs can indicate its coming demise. 
Age: If you know that your air conditioner has approached or surpassed 10 years of age, it may be time for a replacement. Units older than 10 years likely do not have a current Energy Star rating or the same level of efficiency as newer units. These old A/Cs can unnecessarily drive up your utility bills.
Constant Repairs: HVAC repairs can add up quickly. If your unit has begun to need professional attention on a regular basis, you're better off with a new HVAC installation in Bonaire and Warner Robins, GA. Repeated repair can also indicate the presence of tired, outdated components. The failure of a primary component such as the motor, coil, or compressor can result in especially expensive work.
Impaired Air Quality: Old HVAC systems can become a source for dust, allergens, and even mold to enter the breathable air of your home. If you've noticed an uptick in these elements, or have begun to suffer respiratory problems, call us right away for an inspection. HVACs in this condition become not only a nuisance but an actual health hazard.
Brands We Proudly Offer
At Mission Critical Comfort Solutions, we install and service a selection of the finest HVAC systems currently available.  Each of these manufacturers has a long track record of excellence and provides exceptional products worthy of any home.
We're Ready to Serve
Mission Critical Comfort Solutionsexists to provide service to our local community. The next time you need HVAC installation in Bonaire and Warner Robins, GA, give us a call at 478-960-5825. From top to bottom, we are your home's one-stop source for HVAC-related repairs and service.