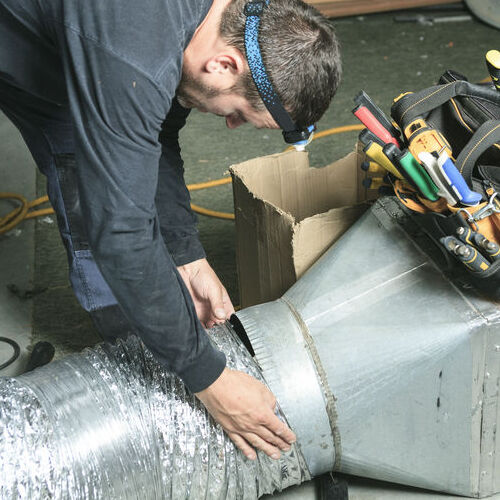 Air Duct Installation
Whether you're having a completely new HVAC system installed or upgrading your existing HVAC system, the air duct installation is a must if you want to get the most from the HVAC. The air ducts connected to your HVAC system are an important component of the system. The air ducts are how the cold and hot air is transported throughout your home or business. Consider the air ducts to be the arteries and veins of the HVAC unit. 
If your HVAC system is in place already and working well, but your household doesn't seem to be cooling or heating as well, or maybe you're noticing everyone in the house is having allergy issues they never had before. So, you scheduled one of those air duct cleaning services and they advised you that it may be time to upgrade with a new air duct installation in Bonaire and Warner Robins, GA. Mission Critical Comfort Solutions can install new air ducts for you. Schedule a service appointment today by calling 478-960-5825. 
How much does air duct installation cost?
If your home already has air ducts installed, there will be the added expense of that being removed first, then the new air ducts are installed. Both require the technician to work with the existing framing of the house, the HVAC system, as well as the electrical and sometimes the plumbing systems. The technician will need to make sure the entire HVAC system and air duct installation all meet building codes and requirements. 
In 2022, HVAC air duct installation for an average-sized, single-story home could range between $1,100 and $2,100 on average. A larger home or multi-story home could cost as much as $12,000 for a complete air duct installation job. 
Can you install ductwork yourself, or is it too complicated and technical?
Those numbers made some homeowners want to do the air duct installation themselves to save some money. And while air duct installation isn't as technical as installing the HVAC system is, it isn't recommended. And not because your HVAC technician wants to make more money off of you! If the installation isn't done correctly, you could end up wasting money on cooled or heated air going into the attic, or worse, out the roof! 
How long does an air duct installation take?
No two homes are going to be the same. There are several factors that can determine the time it takes to install air ducts. Some can be completed in one day and others can take up to 4  days or even a week. The factors that can affect the time it takes include: 
Design: Formulating the design is a big factor, even if there is an existing air duct layout, a new air duct installation takes some designing. A complex or intricate design takes longer to install, even more so if some of the existing ductwork is being left in place and needs repairs. Additional vents installed in various rooms can add time to the design. 
Size: The air duct network size includes the number of ducts needed, which depends on the size of the house. The bigger the house, the more vents are needed. And if the house is multiple stories, this requires more vents. 
Upgrading: If upgrading an existing system with newer tubing and vents, it can take some time with the fittings to get the installation correct. 
Accessibility: Air ducts aren't always as easily laid out as you may picture it. Some of it is often tucked away in inaccessible areas, making the installation process more challenging. 
How many years does ductwork last?
The material air ducts are made from consists of fiberglass and plastic. This combination of materials and professional air duct installation can last up to 15 years. This isn't to say that all new air duct installation is needed at the 15th year, but you should have it inspected and cleaned, every 2 to 3 years. If there are any holes or broken connections, they should be repaired, which may require some parts of the ducts to be replaced.
The Buck Stops Here – Or Does It?
Whether you're going to venture into a DIY air duct installation or go with a professional, which is highly recommended, you have to wonder if a new air duct installation is worthwhile, right? Yes, it is worth the cost and trouble! If the technicians find multiple holes and disconnects among the existing air ducts, then you've been losing cooled or heated air for some time.
With new air ducts, you could save as much as 50% on the cost of energy you're using to cool or heat your home. That will help recoup most of the expense almost immediately. And in addition to saving money on your energy expenses, your family will be breathing cleaner, healthier air too! Need ductwork experts? Call 478-960-5825 today.