Designed to fit comfort, space-saving, and efficiency requirements with ease.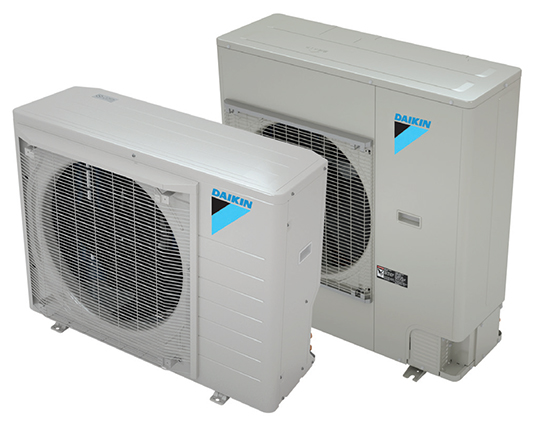 The Daikin Fit system is a side discharge, smart HVAC system that won't compromise on comfort and connects to ducted solutions traditional to the unitary market. In a market saturated with expensive high-tiered inverters, the system provides a premium mid-efficiency inverter at an affordable rate. The low profile of the outdoor unit offers solutions when a traditional cube style cannot.
Affordable. Efficient. Space-Saving.
When installation space is limited, families shouldn't need to compromise on comfort. Ideal for zero lot lines, roof, wall, balcony, or terrace areas, the Daikin Fit feature a new style solution allowing you to meet the demands of homes with the strictest of limitations with relative ease.
Features and Benefits
Up to 18 SEER and 10 HSPF
Compact – The truck style outdoor unit is perfect when installation space is limited
Inverter (variable-speed) Compressor – Ideal indoor comfort and efficiency
Low dBa – Reclaim outdoor space
Quiet-mode – Provides enhanced acoustical comfort
Blue Fin Coat – Long condenser coil life and reliability
Swing Compressor – Quiet and dependable
Side panel access – Ease of service
Lightweight – Easier to handle and install (compared to traditional cube style systems)
Intelligent Defrost Mode – The outdoor unit will enable this mode to help prevent frost/ice from building up in cold climate conditions. It will also help with longer heating operation time of additional comfort for occupants (compared to HVAC systems without this function).
– A selectable defrost backup heat option when turned off, will lower power consumption during defrost.
Advance water-shedding drain pan – engineered with multiple drain holes and channels to help provide effective water shedding.
Hot start technology – When the heating operation starts or when the unit changes from cooling to heating there is no cold draft released into the room.

Designed to Fit Comfort, Space-Saving, and Efficiency Requirements with Ease.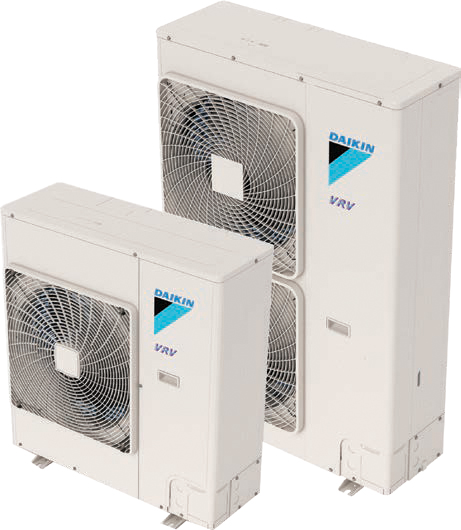 Daikin VRV LIFE systems are the industry's first VRV Heat Pump with gas furnace connectivity for residential applications. The new VRV LIFE systems offer solutions to some of the traditional HVAC challenges for a single family application.
Features and Benefits
Available in 2, 3, 4, and 5-Ton models
Excellent zoning flexibility with 1-to-1 and 1- to-multi connection
Broader diversity with the ability to provide cooling and heating unit up to 9 zones.
Ability to choose a heat pump or multi-zone Dual-Fuel heating capability
Auto and programmable modes for the heat pump to gas heat switch over temperatures
Comparable with 12 types and 65 models of Daikin VRV indoor fan coil units and 80 – 97% AFUE Daikin up flow and down flow communicating gas furnaces
Dependable heat pump operating in extreme ambient conditions down to -4 degrees F in heating mode and up to 122 degrees F in cooling mode.
Year-round comfort and energy savings delivered by combining VRV and VRT technologies compared to traditional split systems.
Operation with sound levels of under 58 dBA make fore easy install close to lot lines
Reduced installation cost with re-use of existing refrigerant lines and uninsulated liquid line
Engineered with Daikin's swing inverter compressor technology
Backed by 12-Year Parts Limited Warranty and 12-Year Replacement Compressor Limited Warranty*