Much depends on the quality of your residential heating system. When the season turns cold, you and your family need the furnace not as a luxury, but as a requisite for daily life. Your home should represent a comfortable haven from cold weather. If your heating system no longer functions optimally, you should make an immediate call for service from Mission Critical Comfort Solutions.
Our trained, expert technicians can quickly identify problems and make repairs for residential heating in Bonaire and Warner Robins, GA. Additionally, we offer full installation and maintenance services for all elements of your system. Whether you need your furnace cleaned, tuned, or replaced, we are the team to trust. To begin your next heating system project, give us a call at 478-960-5825
Benefits of Our Residential Heating Services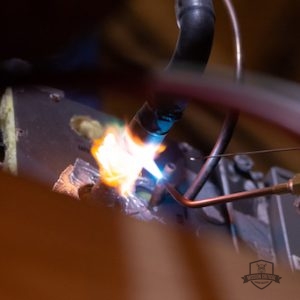 Your complete home heating system, whether you rely on a gas or oil furnace, a heat pump, or mini-splits, serves as an indispensable element of daily life. When the temperature drops, you simply cannot do without a functioning heater. We recognize the importance of our work in this regard and go above and beyond in terms of speed and thoroughness. Our expert technicians cover any possible need, including installation and maintenance.
Installation: Most home heating systems have a lifespan of about 10 years. Has yours approached the end of its usefulness? Pay attention to the following signs, and call us service when they appear.
Old Age
Ineffective Heating
Regular Repairs
High Energy Bills
Cracks or Other Damage
A new residential heating system comes with plenty of benefits, including lower monthly energy bills, better overall heating, and peace of mind in regards to safety concerns.
Maintenance: We can also provide a regular heater maintenance service, in which we will clean, address problems, and adjust your heating system for maximum efficiency. A partnership with Mission Critical Comfort Solutions can solve your heating issues to leave you warmer, happier, and better prepared through preventative maintenance.
Contact Us to Learn More
As the premier heating contractor in the local area, Mission Critical Comfort Solutions proudly shares its expertise with a broad array of clients. Join our team, and you will never again find yourself out in the cold. For service inquiries for residential heating in Bonaire and Warner Robins, GA, give us a call today at 478-960-5825.