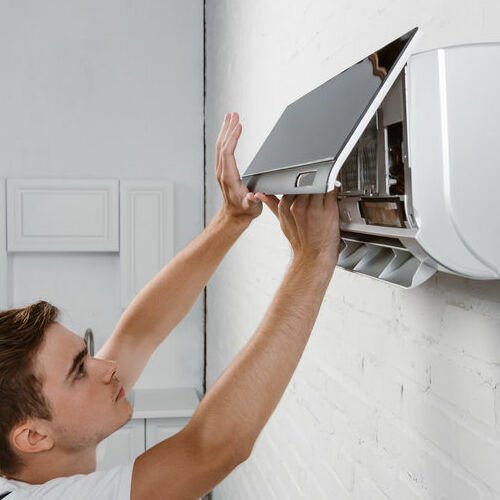 Are ductless AC units more efficient?
If you are looking to install a new air conditioning system, you have many options available to you. Among the options available is a ductless air conditioner, also known as a mini-split air conditioner. Why would you choose this type of system over a traditional central air system? For some people, it might be a necessity, especially if no ductwork is installed in the home. With ductless systems, no ductwork needs to be installed.
Cost savings are always an important issue when it comes to installing an air conditioning system. One distinct advantage ductless systems have over central air conditioning is increased energy efficiency. These units have a SEER rating of 14 or more, and many older central units have a rating of six or less. SEER measures a system's ability to cool efficiently during a typical cooling season, and the higher the rating, the greater the energy efficiency. What this means for consumers is that ductless systems use less energy to operate, so they will save you money on utility expenses in the long term.
If you are interested in installing energy-efficient ductless air conditioners in Bonaire and Warner Robins, GA, you can always rely on the professionals at Mission Critical Comfort Solutions. We offer a wide range of heating and cooling solutions for both residential and commercial customers. Find out how we can help keep you comfortable by calling 478-960-5825.
How many ductless units do I need?
Duct air conditioners cool in zones. This means you only cool the rooms that you want to cool. Depending on the size of your home, however, this also means you'll have to install more than one air handler—the inside unit—in your home, which often means added upfront costs, one of the main disadvantages of this type of system. Most outside condenser units in a ductless system, however, can fit up to eight air handlers. As a rule of thumb, depending on the size of your home, you'll probably need one air handler per room. Also, the larger the rooms, the larger the air handler needs to be.
How many square feet can a ductless air conditioner cool?
When you're installing a ductless air conditioner, the square footage of your property is the key to what size air handler you'll need to cool each zone. At a minimum, to cool a 150-200 square foot home, you'll need a 6,000 BTU unit. The larger the space, the larger the unit you'll need to cool it. For a 400-450 square foot space, for instance, you would need a unit with 10,000 BTU output, while spaces of up to 1,500 square feet require 24,000 BTU.
Can I install ductless AC myself?
Ductless air conditioners require an outside condenser unit and one or more air handlers inside, depending on whether they are single-zone, double-zone, or multizone units. The more air handlers needed, the more complex the installation. While you can install the units themselves with little trouble, professionals are required to install the refrigerant line. The line has to be cut and charged to complete the installation. Some DIY units, however, already have the refrigerant charged and no professional is required for installation.
Does ductless AC add value to home?
While having any cooling system in your home is valuable, many homebuyers view central cooling systems to have the most value because these systems cool the whole home from one centralized unit. However, ductless air conditioners are also highly valued because they are more energy-efficient than central cooling. Either system, though, adds more value to homes than a wall unit does.
Do ductless air conditioners also heat?
Installed on their own, ductless air conditioners are unable to simultaneously serve as heaters. But, if you install a mini-split with a heat pump, then you'll be able to heat your home. The reversing valve is the key component in this case because it redirects refrigerant flow depending on the season.
Are ductless air conditioners noisy?
Along with being energy efficient, people like ductless air conditioners because they produce almost no noise. The decibel rating is about 25, equivalent to the sound of rustling leaves.
How to clean ductless air conditioner
Like all air conditioners, ductless systems need to be cleaned and maintained regularly so they continue to run efficiently. When cleaning a ductless system, you'll need to clean both the outdoor and indoor units.
Cleaning the outdoor unit
Clear twigs, grass, and other debris away from the unit.
Use a damp cloth and soap and water to clean the outdoor cabinet. Use a dry cloth to dry it.
Scrub and wash the fan cage or grill by first spraying it with water and using a brush to scrub away excess dirt and grime.
Use a damp soapy cloth to clean the fan blades, then rinse and dry with a dry cloth.
Remove dirt from the interior unit with a dry cloth or vacuum.
Wash off any mold growing on the condensate pan with soap or bleach solution and then rinse it.
Remove debris or objects that might block water from the drain hose and wash the hose with soap and water.
Cleaning the indoor unit
Wipe the outside of the air handler with a damp cloth and dry it immediately with a dry cloth.
Remove the air filters and clean them either with a dry cloth or soap and water.
Wipe dirt away from the evaporator coils with a dry cloth or use a coil cleaner.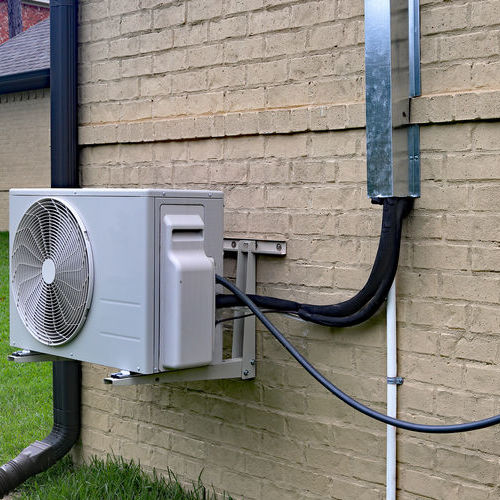 Who installs ductless air conditioners?
Whenever you want a ductless air conditioner installed in Bonaire and Warner Robins, GA, turn to the experienced professionals at Mission Critical Comfort Solutions. We'll make sure it is installed properly and cooling efficiently. Schedule a service appointment or get an estimate by calling 478-960-5825.