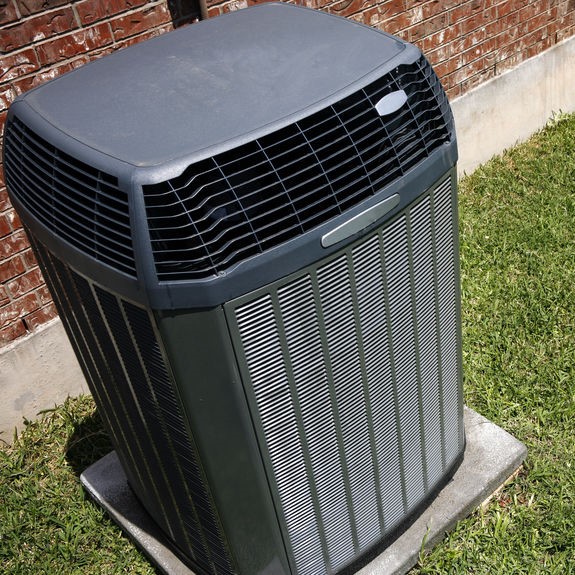 Air conditioner not working
You probably don't think twice about air conditioner refrigerant, most people don't. When the summer days heat up, you want the air conditioner cooling, but what if it isn't? How do you troubleshoot a home air conditioner? Here are some suggested DIY troubleshooting tips to try before you call the repairman:  
The Air Filter: If you haven't replaced or cleaned your air filter in some time, it can affect the air conditioner cooling.
The Thermostat: Make sure it is on COOL not HEAT and set at a cooler temperature.
The Circuit Breaker: If the air conditioner won't turn on at all, check the circuit break.
The outdoor component: Is it covered in dirt, filled with ice inside the vents?
The air vents: Check each room and make sure all the air vents are open.
Some of these things can cause the cooling lines to freeze up with air conditioner refrigerant. Once you have checked each of these troubleshooting tips, you're still not getting frosty air from your air conditioner, you must call an authorized, experienced repair service.
The sooner the better, and not because it's getting hot and they're getting busy, but because the longer you wait, the problem could get worse. How? If there is any water leaking from the system into the attic walls or under your house, the problem will grow into a bigger problem.
How do I find a leak in my AC?
Budgets are tight for everyone, so it is understandable that you want to do as much as you can yourself when it comes to home repairs, like your HVAC system. Fortunately, technology has come to the public so that you can purchase some equipment, supplies, and tools, like air conditioner refrigerant, that once were only available to authorized, experienced, and licensed technicians.
However, if you don't know how to correctly us them, you could do more harm than good. As we provide you the following steps for checking the air conditioner refrigerant to your HVAC system, make sure you read the instructions and follow the directions. You may ask yourself, "Is air conditioner refrigerant harmful?" and we have to give you an astounding YES! It must be handled with care and used properly. If this gives you any doubt, call a reputable air conditioning repair company. Err to the side of safety, not budget.
Dye
An effective way to check for air conditioner refrigerant is injecting fluorescent dye into the HVAC system and turn the system on. Once the dye has had time to circulate through the system, if there are any leaks, you should see the dye using a detection lamp.
Electronic
Another leak detection method is an electronic device that scans refrigeration components on the outside component. It sounds an alarm when it detects a leak. An electronic leak detection device is compatible with the refrigerant in the lines, so make sure you purchase the right device.
Oil
An air conditioner refrigerant leak is usually detected by oil leaking from the HVAC system, it is hard to miss since it is a dark, thick consistency. If there is oil around your HVAC system, call an authorized repair technician. There could be more than just an air conditioner refrigerant leak.
Nitrogen
The nitrogen leak detector is the more popular among technicians because the results are more accurate. However, you must remove the remaining air conditioner refrigerant that is in the system first, then pump the nitrogen into the system. If there is a leak, you'll hear a distinct sound at the leak.
Soap Bubble
For the non-professional, this is the safest way to check for air conditioner refrigerant leaks. Mix soap and warm water and inject into the HVAC system. If there are leaks, you'll see bubbles. Mark those areas so that the HVAC technician will know exactly what needs to be repaired or replaced before recharging your system with air conditioner refrigerant. Now you're probably asking, "Can I put refrigerant in my home AC?", and the answer is no. Handling air conditioner refrigerant has significant risks associated and for the untrained person with the proper equipment, the dangers of asphyxiation, flammability, toxicity, and there are legal consequences too. By stipulations set within the EPA has set, only a certified professional can purchase and perform the procedure.
Dealing with AC refrigerant leaks and air conditioner refrigerant charge can be stressful. Before you explore the possibility of doing this yourself, ask yourself if you can afford a new HVAC system. Because if you do this wrong, that is exactly what you could need next: A new HVAC system.
How do you know if your AC needs refrigerant?
These four things are signs that you may needair conditioner refrigerant added to your HVAC system:
The energy bill increased, but your house isn't feeling any cooler. This typically means your AC must work harder to keep up with the demands of the thermostat.
The vents have warm air coming out instead of chilly air.
You see frost or ice on the coils in the outside component of your AC system.
You're hearing bubbling or hissing noises coming from the internal component.
How do I fix my AC not blowing cold air?
As we've discussed here, there are a few common problems that your air conditioning unit may have:
Air conditioner refrigerant line insulation missing
Clogged drain
Clogged filter
Condensation airflow switch
Ice buildup
Low air conditioner refrigerant
Power issues
Thermostat issues
After your unit has reached a certain age, repairing it may not be worthwhile. Any system that is ten years old or older, for example, or if you are consistently having the same problem. Sometimes, investing in a new unit is more a money saver than having it repaired over and over.
With summer here, for most of the country, we'll be turning on that air conditioner. If run your AC without refrigerant, you will not get cooled off at all. In fact, you will get heated up in frustration.  Call your local HVAC technician today and get your system ready for those hot summer days and nights. For your air conditioner refrigerant recharge in Bonaire and Warner Robins, GA, call 478-960-5825 today.