Upkeep for your heating system
As a homeowner, do you have a heating maintenance checklist? If you're like too many other homeowners, probably not, but you should. What is a maintenance checklist? A heating maintenance checklist is preventive maintenance you're your heating system. When performed by you, or having it done professionally, it will ensure that your heater won't leave you in the cold. So, what is heating system maintenance task on this check list?
There are several things your heating system needs done to prepare for the cold weather and to keep working throughout the winter:
Schedule professional heater maintenance and repair service to prevent any possible downtime this winter. Their heating maintenance checklist will include checking for broken or damaged parts, perform repairs needed, and clean the system. These areas and parts include the electrical connections, heat exchanger, and moving parts like belts and fans.
Before winter arrives, check the furnace filter, and change it or clean it. A clogged and dirty air filter will minimize the heat distribution through your home, and it makes the furnace work harder.
Check the thermostat setting and position it so that it is working at the top efficiency possible. You want to be comfortable, but keep in mind the monthly bills! A smart thermostat can be programmed to help you with the proper settings when you're not home.
A heating maintenance checklist should include inspecting the area around the furnace to make sure all the vents are clear for airflow.
Have the air ducts cleaned before winter arrives so that you have clean air blowing through the house.
How often should you have your furnace serviced?
Professionally, a gas furnace need to have annual service at the very minimum. Recommendation is for twice a year, once before winter and again the end of winter. A quarterly maintenance program will follow a heating maintenance checklist designed by the manufacturer of your furnace. This is a good idea when the furnace is 12 to 15 years old.
The purpose of professional maintenance is for any issues to be discovered before they become a problem and leave you without heat. The benefits of a professional with a heating maintenance checklist are:
Prevent Unexpected Costs: Whenever a professional follows their heating maintenance checklist, they often find little issues that can aren't causing a problem now but will in time. This is proactive and keeps your home warm in the winter, protects your budget and wallet, and is safer for your home.
Energy Efficiency: When a professional has performed their heating maintenance checklist, they will do the cleaning and oiling that keeps your furnace working efficiently so that it is giving you the best service without costing a fortune each month.
Extended Life: If you have a combined HVAC system, keeping up with the heating maintenance checklist and the air conditioning checklist will assure that your HVAC system will have a long healthy lifespan, giving you years of comfort.
How often should you clean your central heating system?
The system itself, for your homeowner heating maintenance checklist, as we have mentioned already, should be professional serviced no less than once a year, twice a year is recommended. As the homeowner, you should change or clean the filter every 30 days and if your home as several animals or live in a dusty area, you may need to do that every 2 weeks.
For the air ducts, when you start seeing dust collecting as soon as you've dusted, it is time to get the air ducts cleaned. If you don't have problem with dust accumulating quickly, you should schedule a professional duct leaning every three years.
How do you service a heating system?
As a homeowner, it is important that you know how do you maintain a central heating system in order for it to work efficiently without costing you a fortune. A professional heating maintenance checklist should include the following:
Replace the Air Filter
Check the Thermostat
Switch High and Low Wall Returns according to the weather
Inspect Blower Motor and Wheel
Lubricate Motor and All Moving Parts
Inspect Electrical Wiring
Inspect Heat Exchanger
Clean Burners and Check for Drafts
Check Air Flow and Capacitors
Check Temperature Difference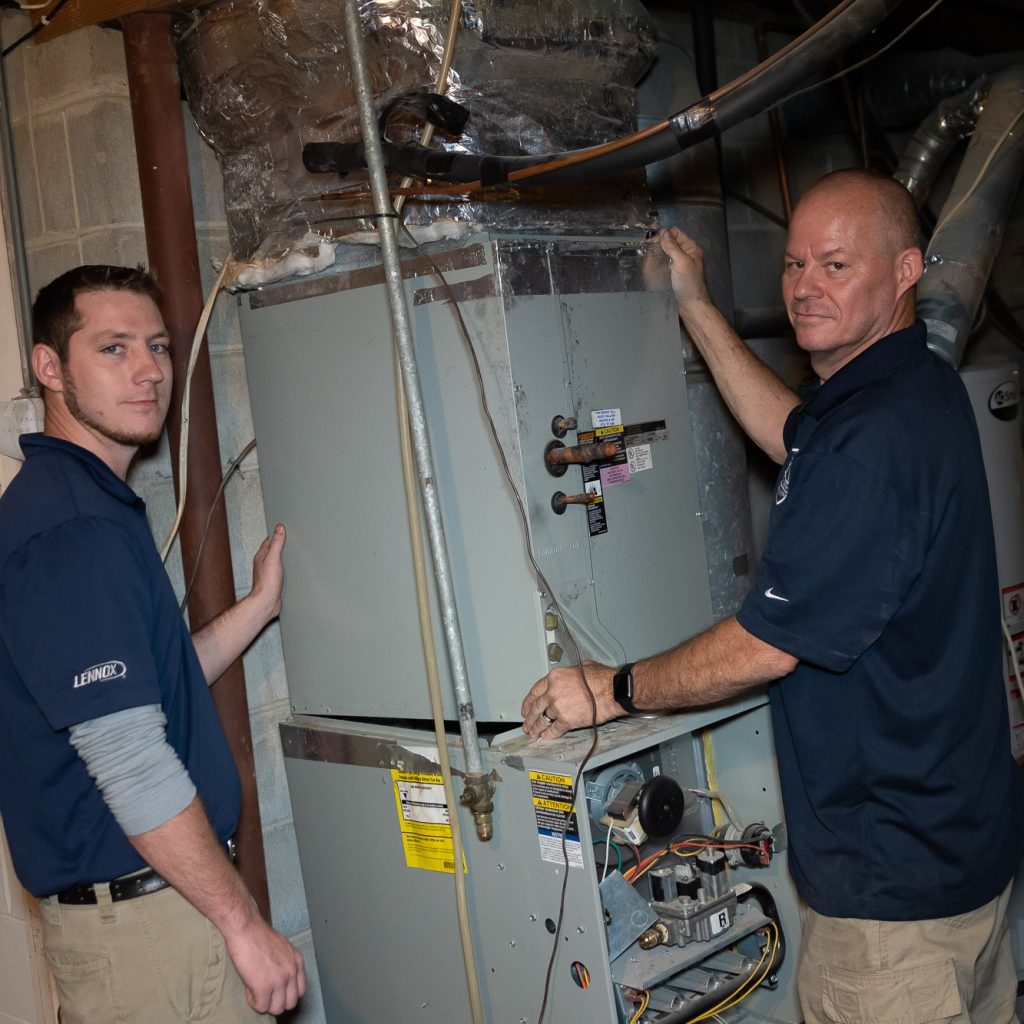 How do I test my heating system?
Before you start using your heating system here is a heating maintenance checklist to follow and make sure it is good to go. If you find any issues you can't address, call a professional service as soon as possible:
Change or Clean the Filter: This has the biggest impact on the cost of heating a home and is often overlooked.
Inspect the Blower Belt and Motor: Just like a car, the belt on your heater's blower motor will dry and fray. This can keep your home from heating up and will can freeze the motor up. Keeping the motor lubricated is as important.
Carbon Monoxide Poisoning: Furnace produce carbon monoxide and while it is safe up to a certain amount, it can be deadly. It is best to eliminate or keep minimized. The means keeping the doors sealed around the blower, keeping your system clean and running correctly, and install carbon monoxide detectors in your home.
Call 478-960-5825 today for your HVAC system maintenance in Bonaire and Warner Robins, GA.